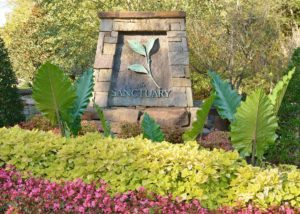 Several years ago, I was asked to help do the environmental planning for a special place that is tucked away on a quiet corner of Lake Wylie in Charlotte, North Carolina. After many meetings and lots of days tromping around in the woods, the place eventually became known as "The Sanctuary."  Now it is one of the most exclusive luxury lake communities in the Southeastern, United States. Only 187 families call this 1,350-acre nature reserve community home. On this splendid piece of Lake Wylie property, the rustic beauty of lake living is near world-class restaurants, shopping, professional sports and culture in uptown Charlotte, which is less than 14 miles away. When you are in The Sanctuary, large home sites, untouched meadows and wooded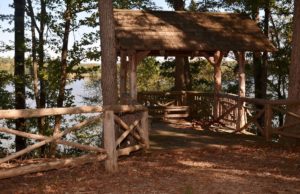 terrain make you feel like you are a million miles away from the hustle and bustle of urban life. Originally, we thought that clustering homes in order to preserve large swaths of land around the lake would be the most appropriate way to assure the water quality of the lake. But, eventually we decided that a series of what we called "private preserve" lots scattered in an individually selected process, coupled with clearly defined "building envelopes" for each lot would work much better, both for the lake and to assure that each owner could be fully immersed in nature.
The Sanctuary has something for all ages. The Camp is a 17-acre waterfront amenity area with swimming pools, tennis courts, a fitness center, kid's room, a playground, an amphitheater, picnic stations, community events, and a boating center with canoes and kayaks. The Camp is the heart of the community at the Sanctuary and an exciting activity is right around the corner for everyone. With the ability to explore 20 miles of nature trails, 300 acres of common open space and a largely undisturbed, seven-mile shoreline, the Sanctuary is perfect for nature enthusiasts of all ages.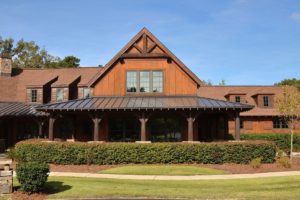 One amenity within The Camp that I am proud of is the John James Audubon Lodge, which I thought to be a very appropriate name for the facility given its location to Lake Wylie and the fact that we made certain to provide an enormous amount of "room" in the 1,350-acre property to assure for a great future for all the birds that nest, rest and migrate through The Sanctuary.
Check out the web site of The Sanctuary and make sure to note the large painting of John James Audubon that hangs over the mantle in the Lodge. Click Here to visit The Sanctuary.